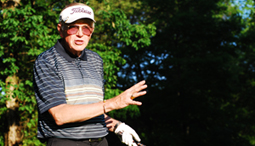 The intriguing nature of golf that captivated the imagination of a six year old boy has continued on to be a passionate dedication and lifelong involvement. For Gil Anderson, the magic of the game provides a purposeful, lifelong pursuit that has led to the passionate commitment revealed in his new book, "Going Fore It: In Golf & Life."
The many twists and turns  his life has taken provided an opportunity to shape his deep appreciation for the game. His search for the secrets that lie within the it factor of this remarkable game have provided insights into the connection of mind, body, and spirit.
Now, after 36 years of teaching the game, he has made the committed effort to share these revelations. Gil will be the first one to tell you that there is nothing special about what he shares. The high success rate of his students, however, reveals a different story. His positive, up-spirited attitude and demeanor carries with it a unique motivational force that is highly contagious. He sincerely believes that every person, regardless of their level of ability, has an opportunity to experience the joy and wonder of this magical sport. Through his caring guidance, he has brought out the best in all of the students. Now, in his 64th year of life, he is providing readers a glimpse into the depth of the game. As their purpose is defined, their process is revealed and their ability to pursue has cleared the way to become authentic students of the game. Passion will unite with desire to reveal the meaning of truly going for it.
Join me now as together we unlock the secrets of the life response that is offered through a process of participation that fuels your passion. As your individual pursuit becomes your reality you will become empowered to accomplish all that your willful desire holds within its magical motivating force. Your destination will be guided by your intuitive sensibility for what feels right in your golf and life as you begin going fore it in all that you do.
You are invited to join in an experience of expanded awareness. Achieve your fullest potential in golf and all of your passions.
Gil offers the golf lessons, golf related motivational speaking and presentation services, and life coaching.
In addition, his debut book, "Going Fore It: In Golf & Life" is now available. Buy your copy of this inspirational golf book today!